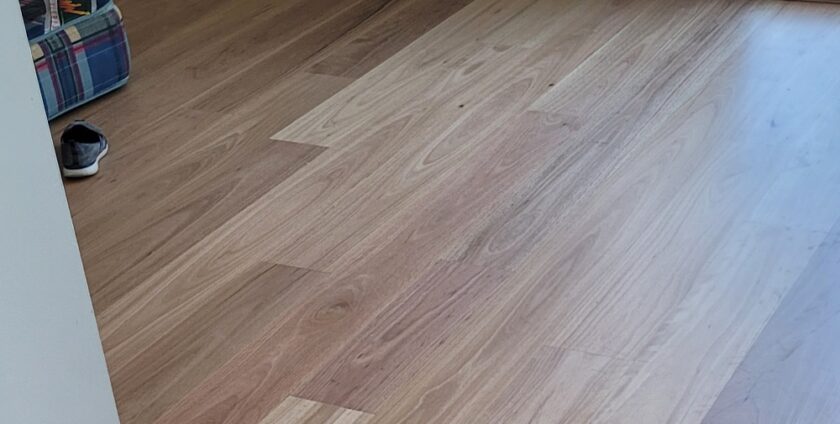 We did a new flooring job for a customer to install new timber engineered flooring for a highrise apartment unit. 
Request to replace old carpet with new timber engineered flooring.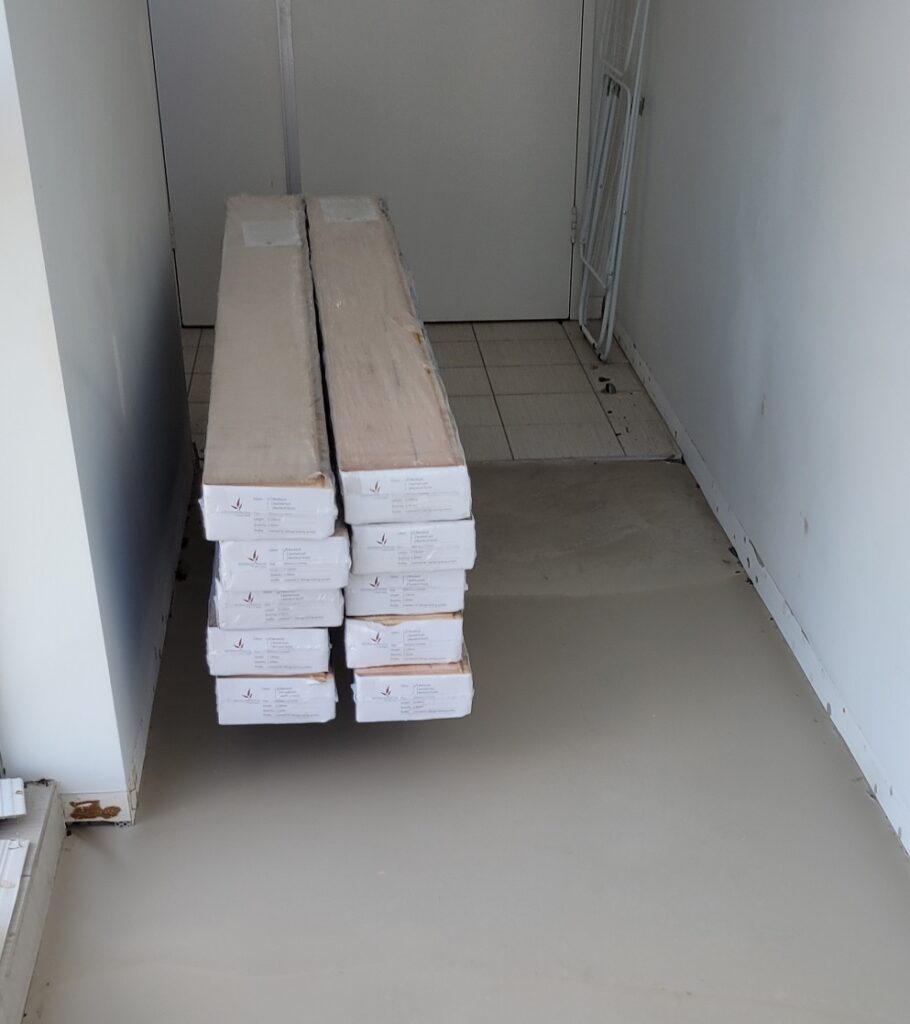 I received a phone call from a customer asking for a meeting time to check their flooring installation job. We agreed to meet at the site location in Southport, Gold Coast. The customer gave me a brief overview on her plans to remove an old carpet and install new engineered flooring timber flooring. She wanted to install it as a floating flooring with an acoustic underlay to meet body corporate nose control requirements.
The customer has decided to install Hurfords blackbutt engineered flooring and install it over 6mm cork underlayment.
Planing the installation job
Before starting installation work, we had to apply for body corp management approval, which is the usual procedure with any highrises buildings. The job approval also required an acoustic test to meet noise control. It took us a week to meet all requirements and order the material.
Old carpet removal and slab preparation
Before laying the new floor, we had to remove the old carpet and underlayment, clean the concrete slab and check the subfloor for levelling. Therefore, I have allowed two days for preparation work.
Day 1
Old carpet removal and cleaning slab
After listing carpet and old underlayment, I found the concrete slab was out of leveling. Therefore proper floor levelling had to be done prior to new floor installation.
Day 2
Slab levelling
To meet Australian flooring installation standards, we completed full-floor floor levelling with Mapei Ultraplan Eco
Installing new engineered timber flooring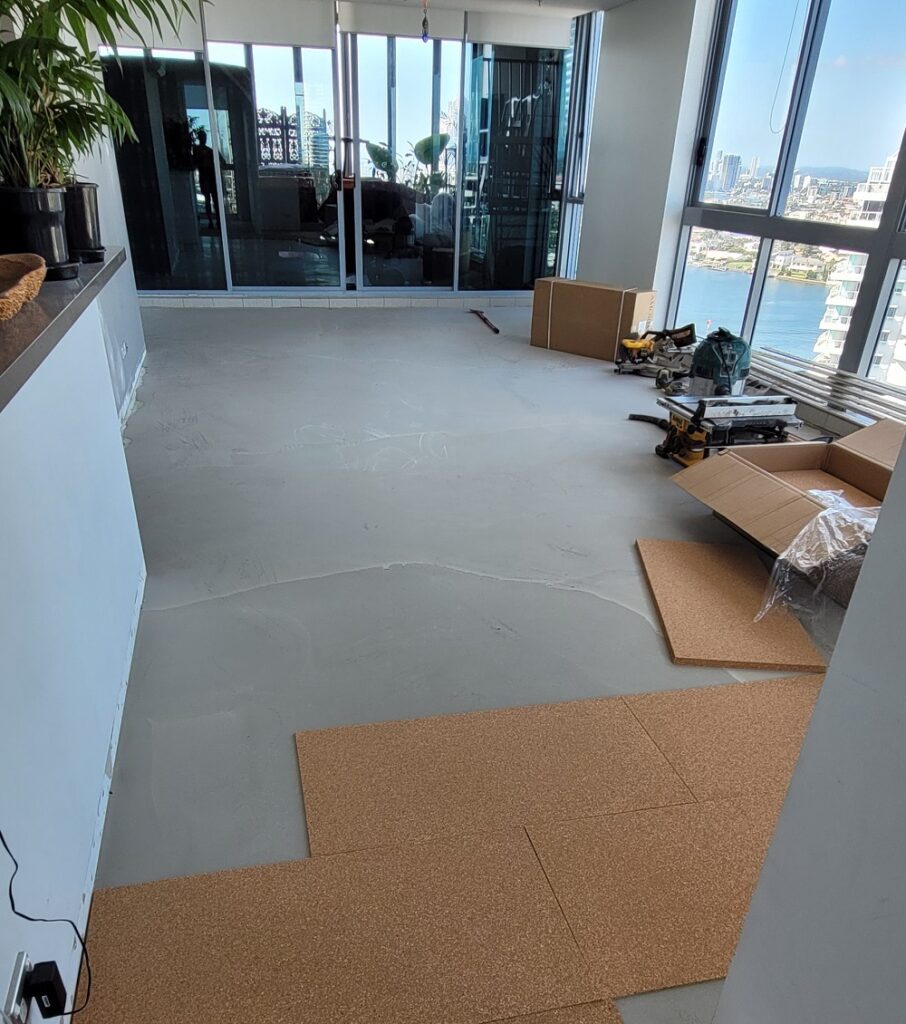 We installed flooring over 6mm eco cork underlayment. The customer requested to brake floor direction in the walk-in corridor and main living area. This is not the usual installation approach, but it makes sense in some homes. We used color match H-trim to join boards together.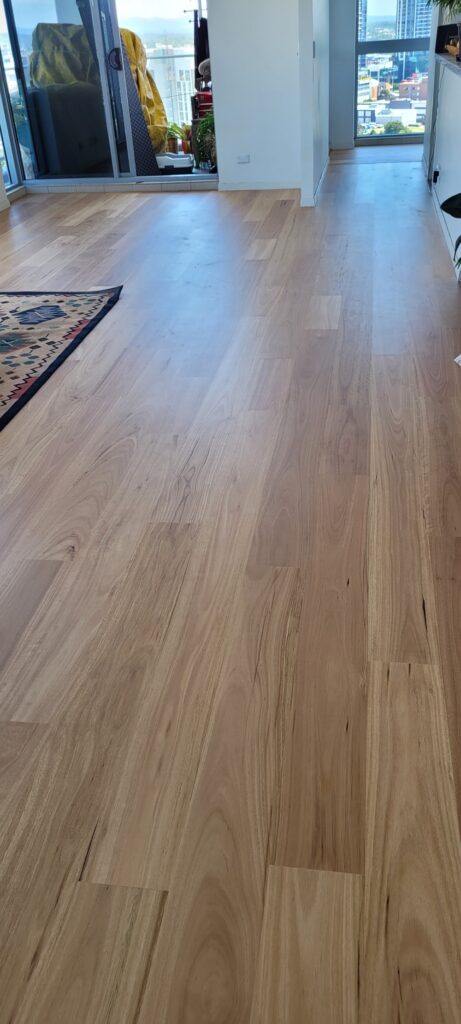 We also used Prestige color matching finishing trims and universal transition between tile and wooden floors.
The whole job took us five days from start to finish. The customer was pleased with the finishing result. We even become a friend with a cat 🙂  
The another quality job was completed by 689 PTY LTD. Give us a call if you are looking for a quality flooring installer. We will be happy to meet you on-site to discuss your project and provide you a free no-obligation quote and professional advice.